Well, as much fun as it was being at my sister's.  I'm glad to be home.  It was -20 C and snowing when I left Edmonton.  +9 C and raining when I landed in Abbotsford! (Need I say more about that?)
My sister is working very hard on her physio.  It takes her about 5 hours a day to run through all the exercises and leg elevation ice treatments.  And she has hourly exercises as well.  She's a busy gal!  I know that my sister will be well taken care of with me gone.  She has a friend (who is a quilter), that is willing to drive my sister to appointments – so now that she's well on the way to recovery – it's about all she needs now.
And the Super Bowl is on today.  I'm not a sports fan.  There will be eating and yelling downstairs, but I'll be happily listening to the hum of my sewing machine.
Striped Retreat Bag (Large)
This was finished before I left my sisters.  I gifted it to her.  She then said, "why do I need to learn to quilt if you are going to give me everything I need?"  Ha!  She'll catch the bug and be addicted pretty soon.

Necessary Clutch
The button is now on the Necessary Clutch.  I realize that I should have put the magnet in before I sewed the flap together.  Lesson learned.  Anyhow, my husband and I tried threading thread through under the magnet.  That did"t work.  So, he got out some epoxy glue … it seems to have done the trick.  It should hold since it can glue steel, glass, wood  and a million other things together.
PHD Update
So far this year, I have completed 7 UFOs.  That is way more than I expected by this time of year!  Now, I do realize that I took a lot of small projects to my sister's – so progress will slow down now as I work on bigger projects.

PHD in 2018 Participants' Progress
As I compiled the following list, I was thrilled and excited and overwhelmed by the progress that each participant has made.  You have all worked extremely hard!  Well done ladies!   Here's Snoopy doing a Happy Dance in the snow!!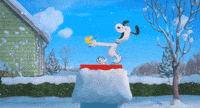 Stash Report
I haven't been diligent at adding up my fabric used. So, here's a list to make sure I've got it correct.
Scrappy Irish Chain – 7
Flannel Fat Quarter – 9
House Quilt – 2.5
Small retreat Bag – 1.25
Large retreat bag- 1.5
Mice – 0.5
Necessary Clutch – 1
Fabric Used this Week:     3  yards  
Fabric Used year to Date:  23.75  yards
Fabric Added this Week:    0  yards 
Fabric Added Year to Date: 8.5 yards
Net Fabric used for 2017:   9  15.25  yards update: my math was out the window with "9" yards … sheesh …
Linking to:
To see what other's in the quilting world are working on – click on the following links:
Happy Quilting!
Gail