On Ringo Lake is Done, Done, Done!!!!
We had a bit of snow Saturday night & I wanted to  get a picture of ORL on the snow yesterday.  You can tell we didn't have a lot of snow as the grass is showing!
This is UFO #11 for this year!  I'm HAPPY! And, the 16 yards for the top and the 7 yards for the back all came from my stash!!!
Please, please tell me: Since I used 23 yards of fabric – all from my stash – why oh why are the bins still full?
Sew … what's next?
Quilting: "Like Gina's Comma" – will be an easy quilt to quilt – spirals and spirals and
spirals.  Gina is my daughter and I made the quilt below for her in 2015 using a jelly roll called "Comma" by zen chic.  The coloured portion fits the top of a queen sized bed.  She asked that the borders be wide and plain and she requested spirals all over.  I liked how it turned out.   "Like Gina's Comma" is  the same pattern, using "Nature's Chorus" by April Cornel.
Here is a picture of the quilt just starting the quilting … and a picture with the trimmings from On Ringo Lake … I might use it for binding.  Time will tell.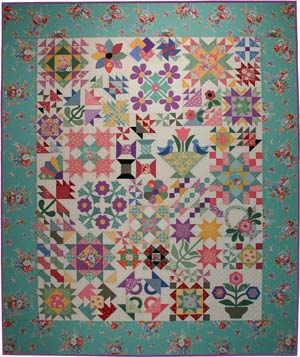 Piecing:  I'm debating between finishing "Ode to 30's."  A quilt that I started around 2009 or earlier. [Is anyone from  Krazy Kwilters following my blog and can you tell me?]   Anyhow – when I started it, I didn't realize what 30's fabrics were and chose a pretty fabric and tons of coordinating fabric to go with it.  I'm not too fond of the pattern anymore, so,  I won't be making all of the little blocks – I think I'll just finish the 12″ blocks, maybe make some other 12″ blocks, sash them and call it "done."  There are a few crap-lique (appliqué) blocks that I'm not keen on doing.
My other option is to work on Orca Bay #2.  I gave away my first Orca Bay to a very loving home, but I've since realized that I want one of my own. And, of course, I want to make it bigger than the 75 x 85″ that the original pattern calls for.
Sew … the debate is on … stay tuned to find out which I choose.
Linking to:
To see what other's in the quilting world are working on – click on the following links:
Happy Quilting!
Gail
SaveSaveSaveSaveSaveSave